Label Gallery
The new energy labels are designed to be easier to understand for the consumer, compared to the old label, to help customers make better purchasing choices. The new measurements on the labels will be based on 'real-life' household usage, considering aspects like frequently used programmes and average capacities.
All products subject to the new labelling (dishwashers, washing machines, washer dryers, fridges and freezers and wine storage) will share some common features:
Simple A-G scale. A+++/A+ will no longer exist
QR-Code in the upper right corner linking to a data base, accessing product's specifications.
Energy consumption of the model now more prominently in middle section of the label.
All products will be awarded a rating for noise from A-D.
Pictograms on bottom of label characterising product features. Some are the same as in the old label, a few are new or have been revised to reflect new testing or measurement methods.
Use 'drop down' menu to find out more about features specific to each appliance.
Label features: Washing Machines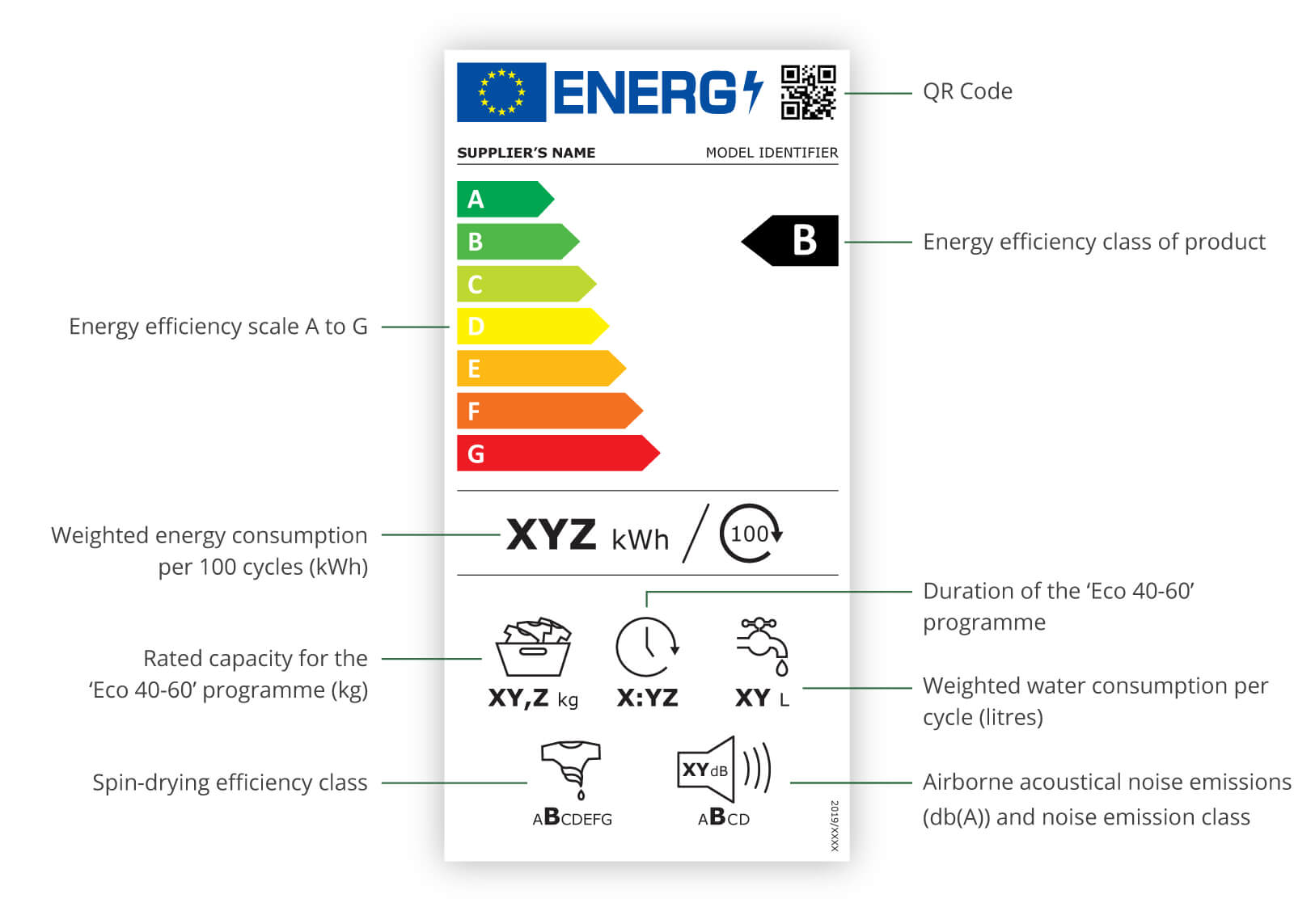 New Features
Measurements based on 'Eco 40-60': new programme that provides the best energy and water efficiency.

Energy consumption per 100 cycles instead of p.a
Water consumption per cycle instead of p.a
Duration of full load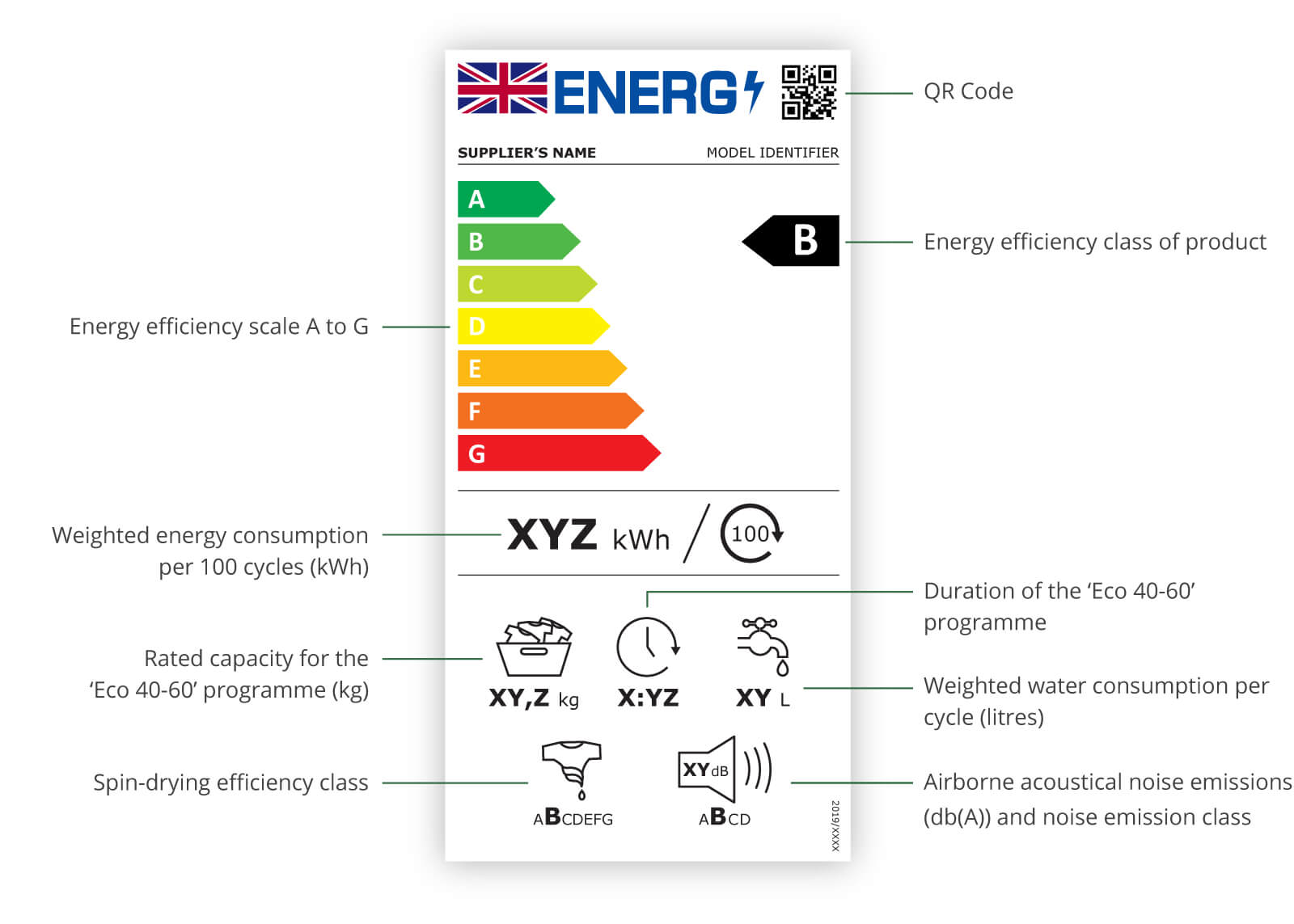 New Features
Measurements based on 'Eco 40-60': new programme that provides the best energy and water efficiency.

Energy consumption per 100 cycles instead of p.a
Water consumption per cycle instead of p.a
Duration of full load
Label features: Washer Dryers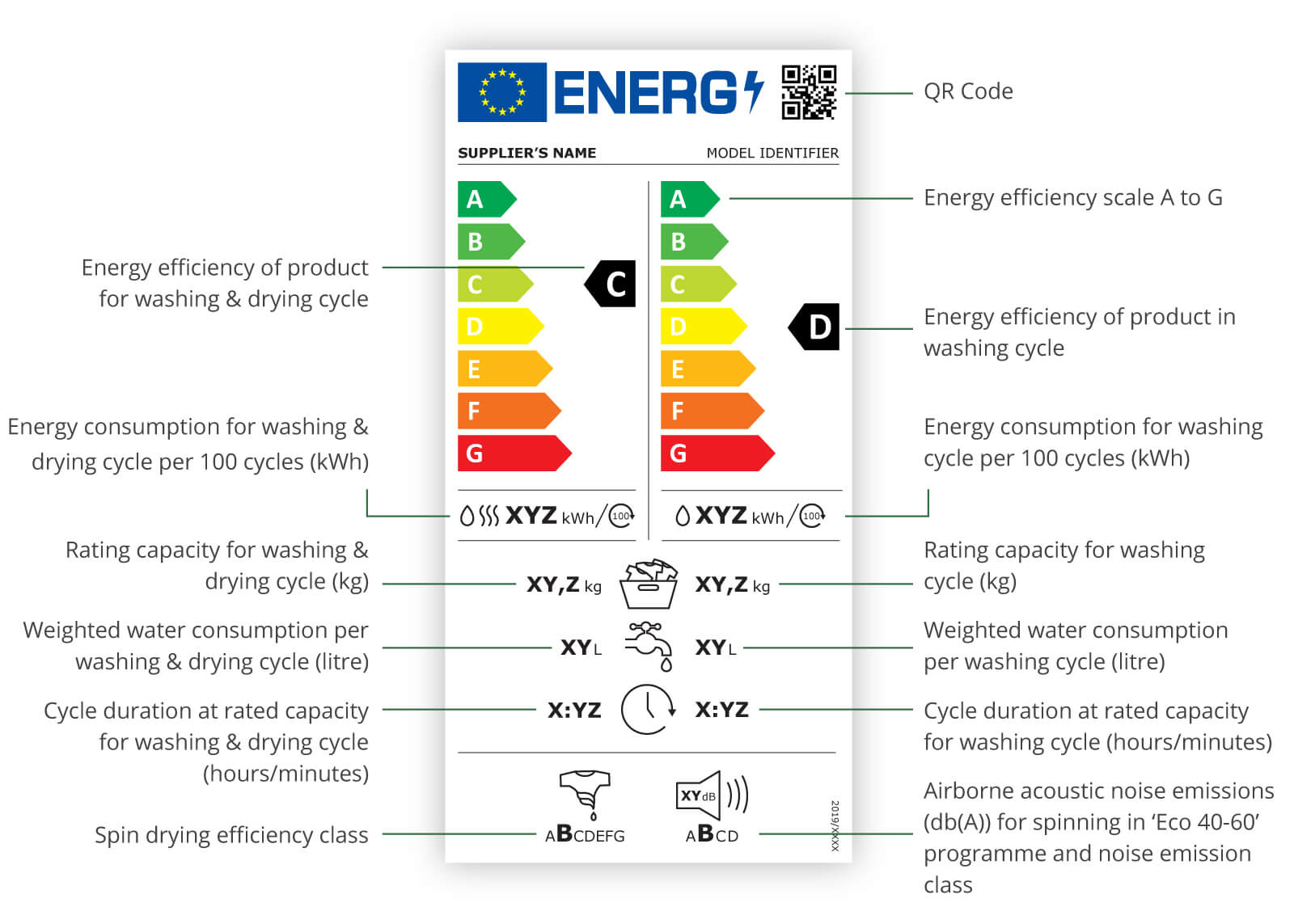 New Features
Measurements for washing based on new 'Eco 40-60' programme (right hand column) & measurements for full, cycle, known as 'washing and drying' programme (left hand column).

Energy consumption per 100 cycles instead of p.a
Water consumption per cycle instead of p.a
Maximum load capcity in kg
Duration of full load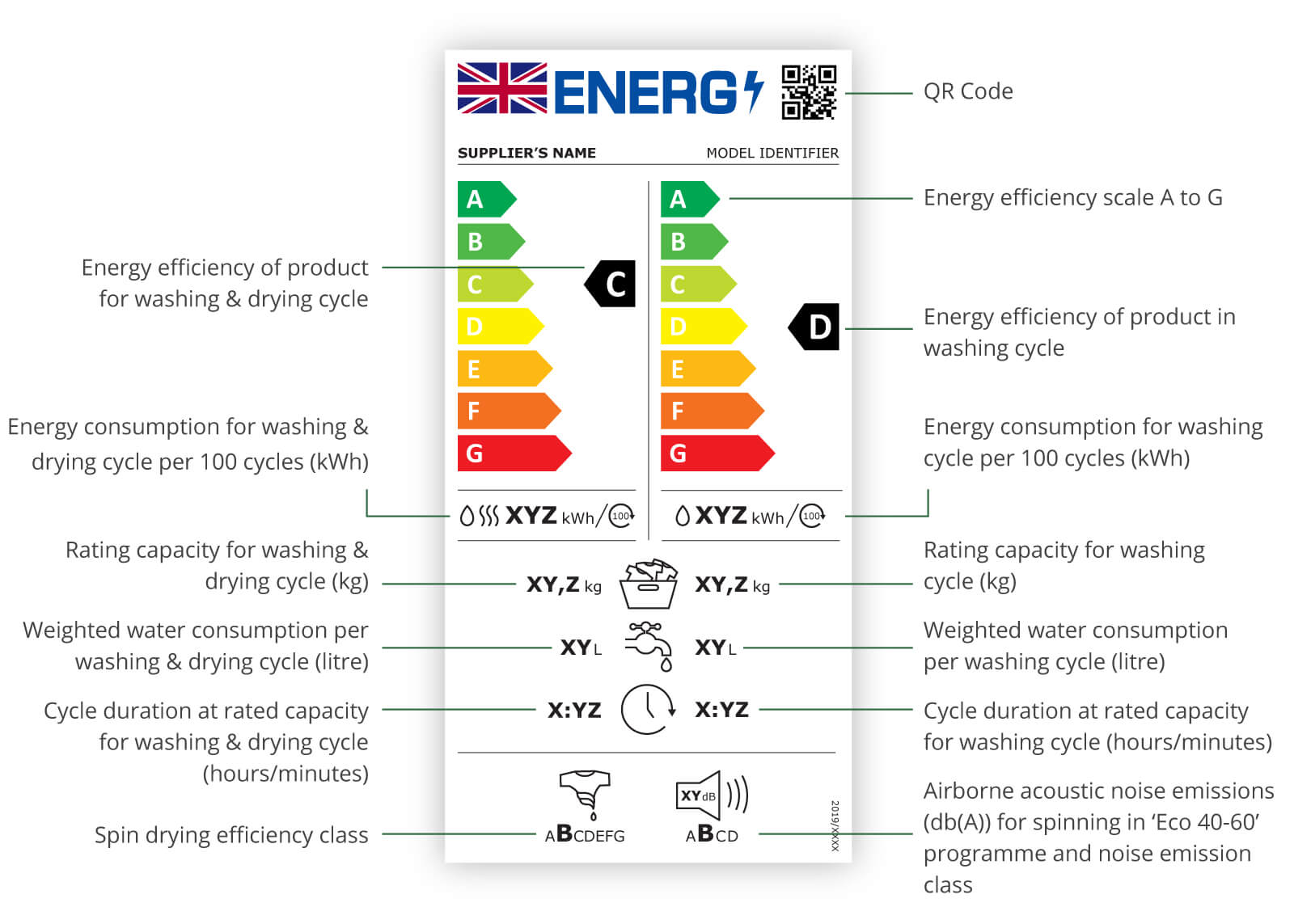 New Features
Measurements for washing based on new 'Eco 40-60' programme (right hand column) & measurements for full, cycle, known as 'washing and drying' programme (left hand column).

Energy consumption per 100 cycles instead of p.a
Water consumption per cycle instead of p.a
Maximum load capcity in kg
Duration of full load
Label features: Dishwashers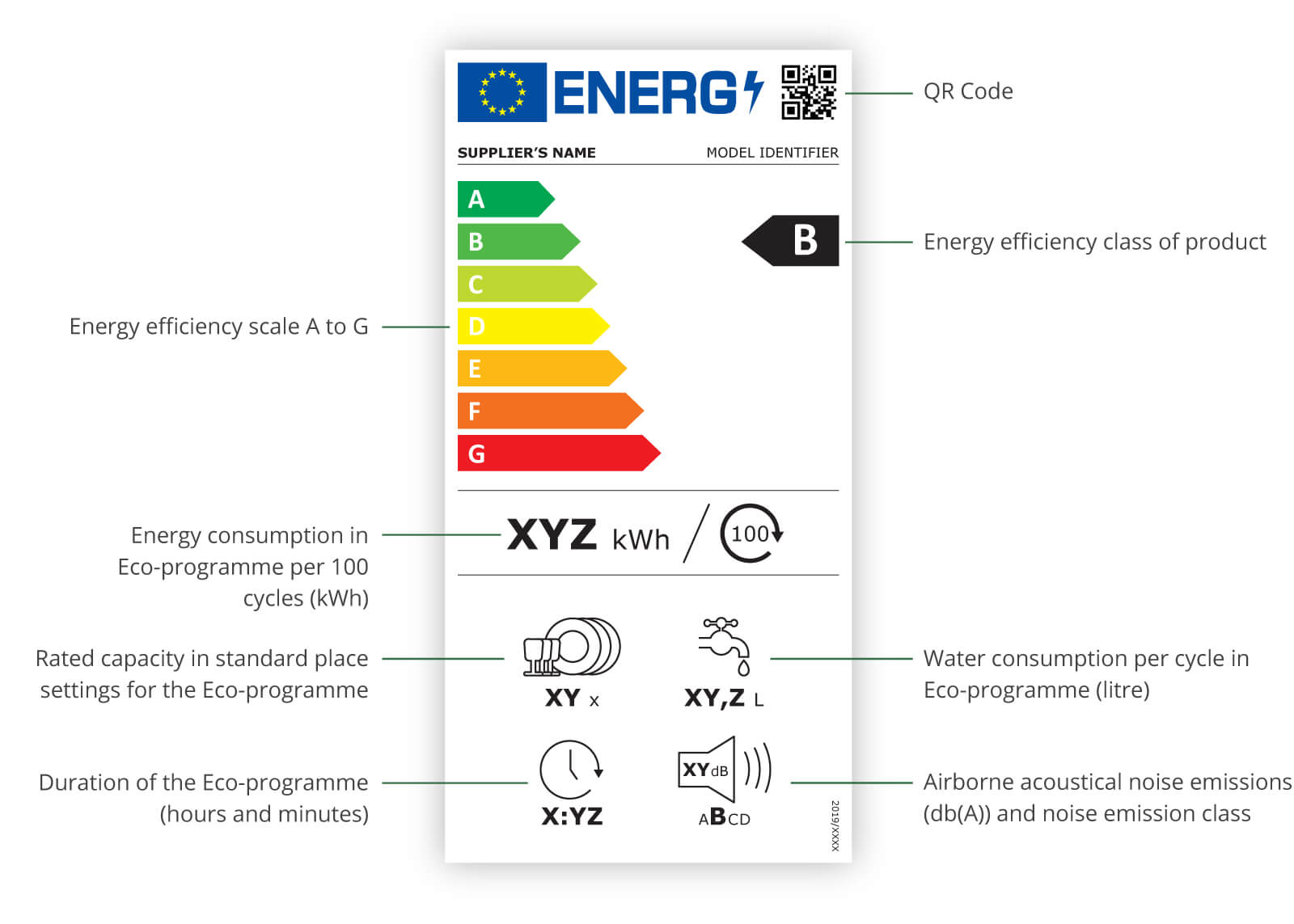 New Features
Measurements based on the dishwasher's 'eco' programme that that provides the best energy and water efficiency

Energy consumption per 100 cycles instead of p.a
Water consumption in litres for each time used instead of p.a
Duration of programme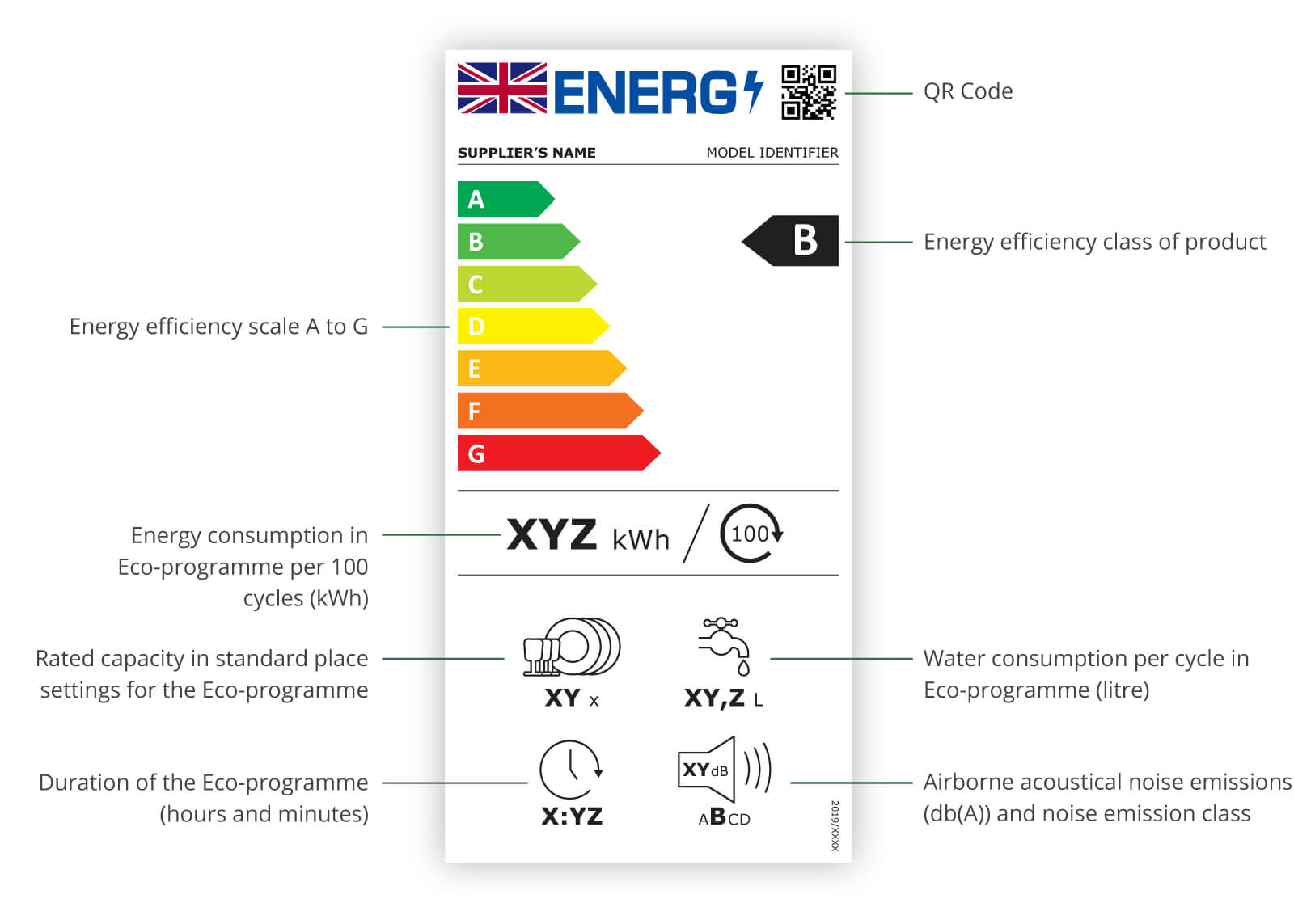 New Features
Measurements based on the dishwasher's 'eco' programme that that provides the best energy and water efficiency

Energy consumption per 100 cycles instead of p.a
Water consumption in litres for each time used instead of p.a
Duration of programme
Label features: Fridge Freezer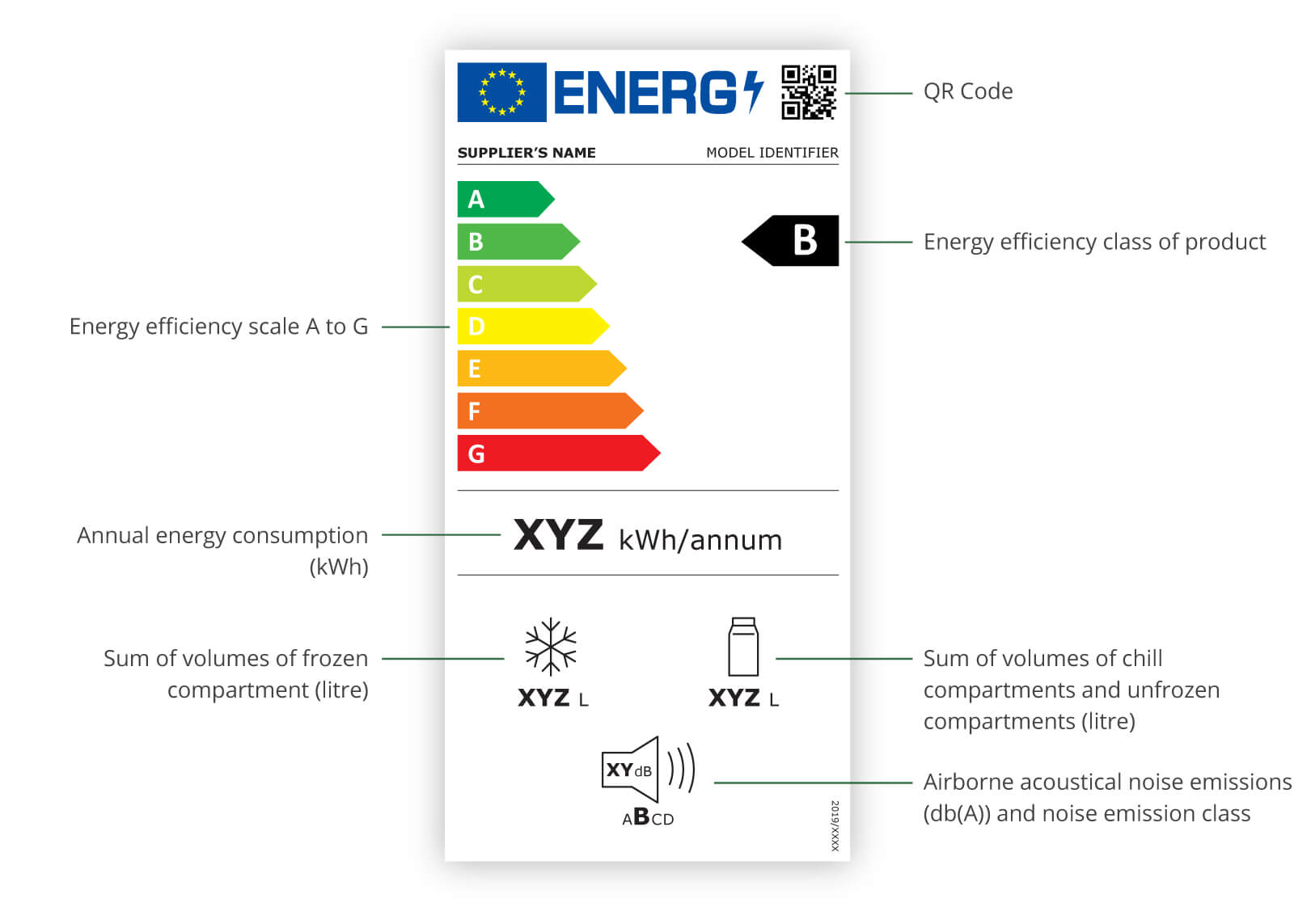 New Features
Different measurement methods for energy consumption & net volume, that also consider:

type of fridge/freezer
volume of compartments
additional built-in technolgies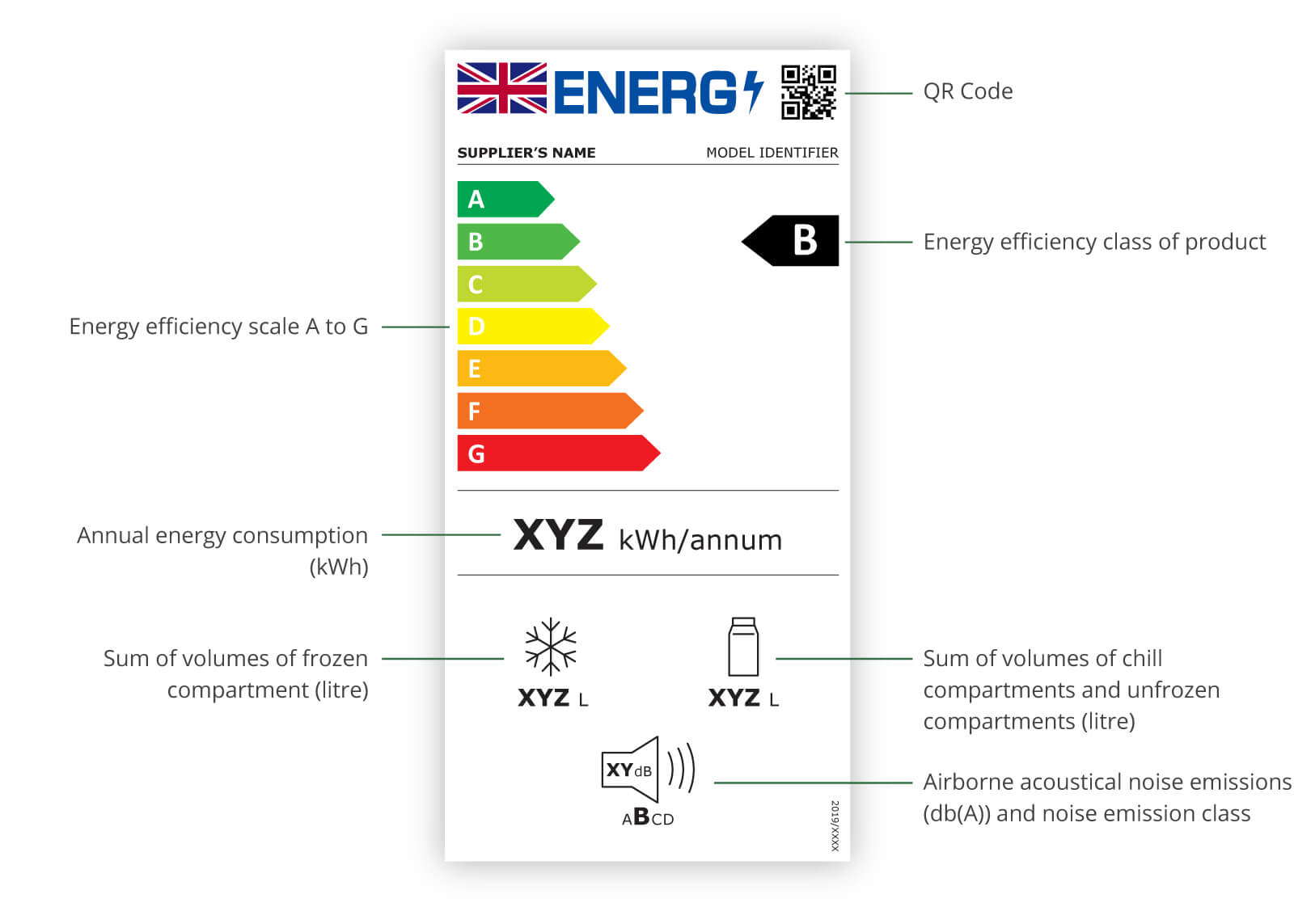 New Features
Different measurement methods for energy consumption & net volume, that also consider:

type of fridge/freezer
volume of compartments
additional built-in technolgies
Label features: Wine Cooler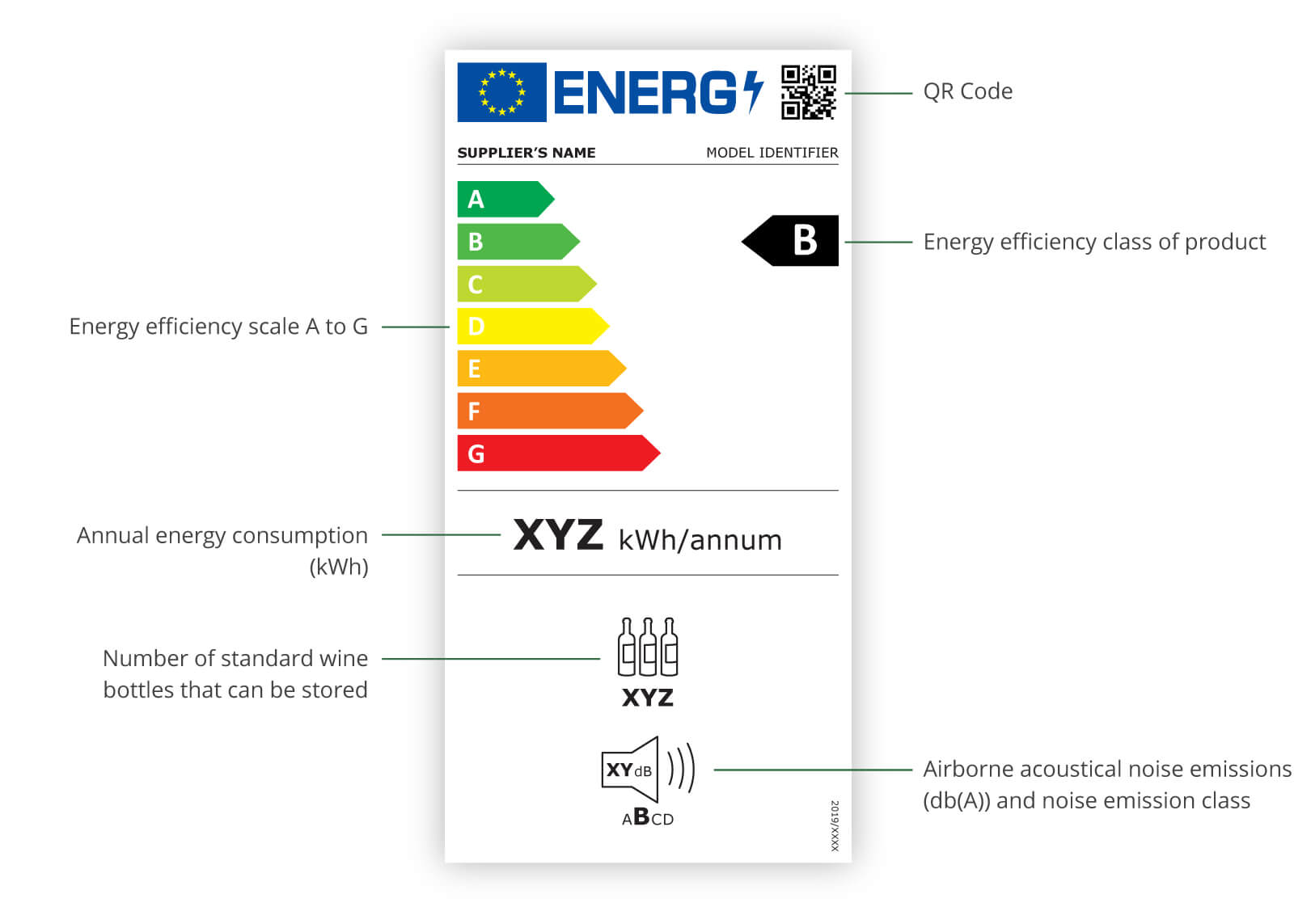 New Features
New icon for wine bottles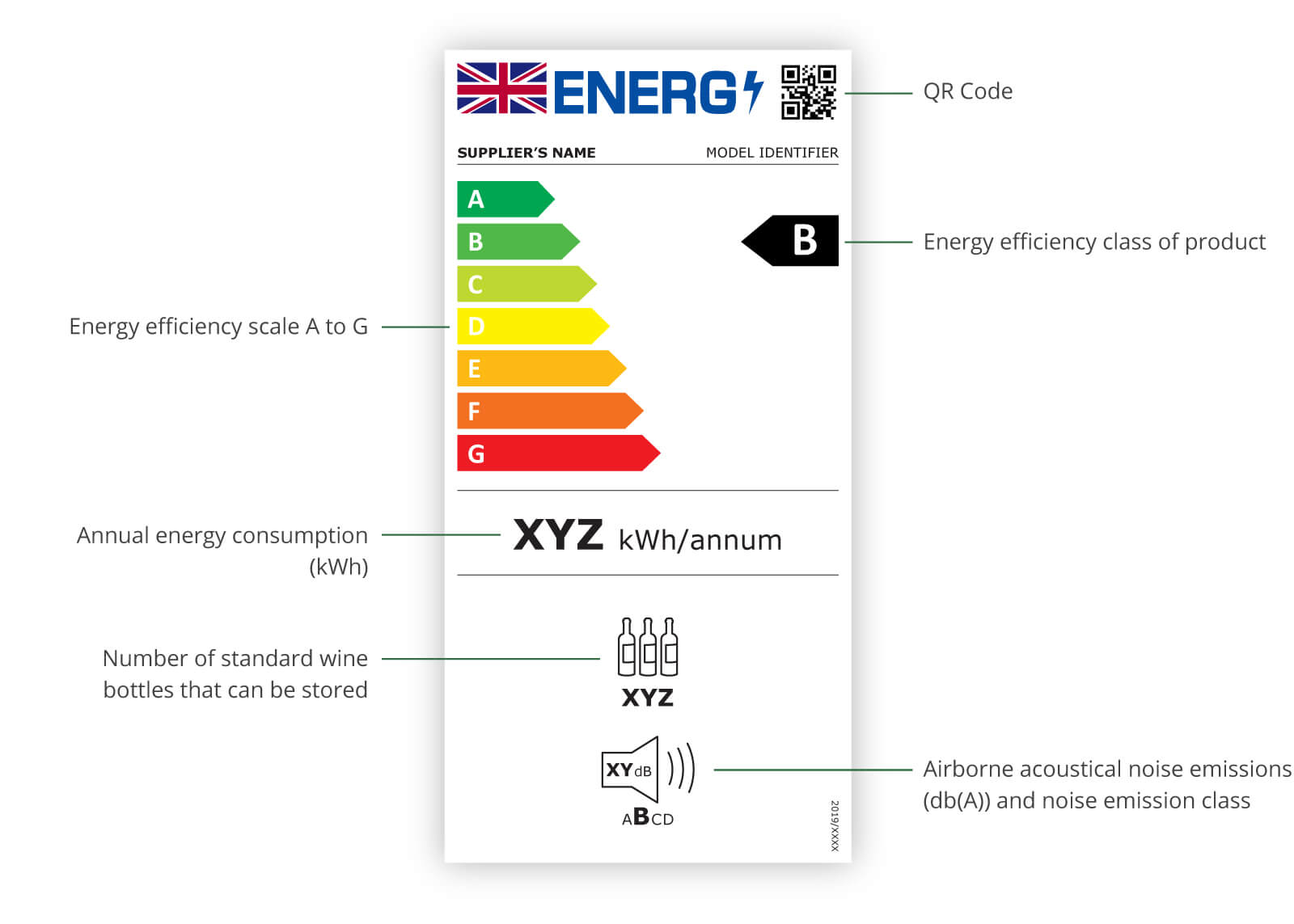 New Features
New icon for wine bottles